Because Apple Health does not have a traditional API akin to other Wellness sources, users may sometimes report discrepancies in activity or activity summary data from their Apple Health app and what is presented in the Human API iPhone application. Please try these troubleshooting steps if there are data discrepancies between what is on a user's device and what is ultimately transmitted through requests to Human API's endpoints:
Open the Human API iPhone app
Syncs between Human API and Apple Health only occur when the app is active (in the background). For this, you may open the app and minimize it.
Force sync the app
Open the Human API app
Select the "Accounts" tab
Select the Apple Health box
Select "Sync Apple Health Data", then "Sync Data" in the pop-up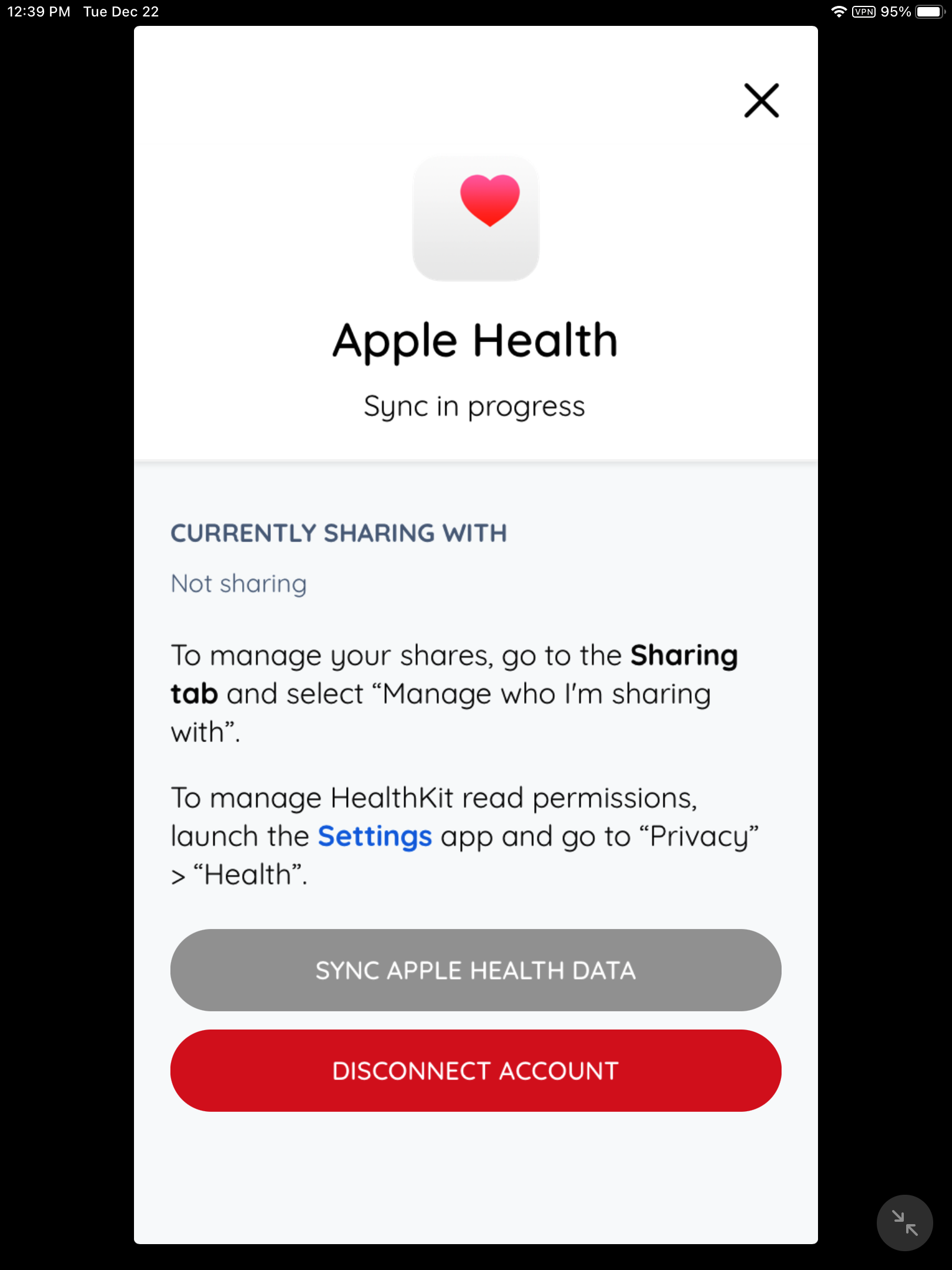 Double-check the desired data type is available to Human API
Verify that in iPhone Settings > Privacy > Health > Human API the desired data type has been enabled
Ensure the data is populated and visible in the Apple Health app
Open the Human API app and check the Events tab
Verify that the user is logging into the correct Human API app account
Sometimes users have multiple Human API accounts (e.g. using personal and corporate email addresses)
The user may have logged into one account within the integrated Connect experience, and into a different account within the Human API iPhone app
In this scenario, have the user log out of the Human API app and to disconnect Apple Health within the integrated Human API Connect experience
Advise them to log into the Human API app then into Apple Health within the Human API Connect experience to ensure the same account is being used
Reinstall the Human API iPhone app
If users report discrepancies in activity (e.g. steps) data for a date in the past, advise users to delete then reinstall the Human API app and to log in with the same account
This will force the app to re-sync the past 90 days (max) of historical data

If there are missing steps beyond 90 days from the current point of troubleshooting, unfortunately those steps will be unretrievable

Please wait 3 minutes with the app open to ensure that the historical data is captured by the system