Customer Support Overview
Our highest calling is to put individuals in control of their own health data. We put each human's needs, preferences, and interests at the center of every choice we make. We remember that the ultimate value we create is for consumers and that health data represents real people.
With that in mind, we are eager to connect with both customers and end users to answer any questions you may have. Although we do not offer live Talk support over the phone, we have several different avenues available to contact our customer support team. Depending on the option selected, you can anticipate a response from our agents within the timeframes outlined below.
Customer Support Hours - Standard
Monday - Friday 9:00 am EST to 12:00am EST
Customer Support Hours - Live Chat
Monday - Friday 9:00 am EST - 8:00 pm EST
Submit Support Request Form
For the fasted response time, please submit a support request using the forms found on the Submit a Request page. This page can also be access by selecting "Submit a request" in the top right corner of any page in this Help Center.
Using the provided web forms ensure Customer Support agents have all the necessary information to address your inquiry at the time it is received, cutting the response and resolution time down significantly. This is the most expedient and efficient way to contact Customer Support.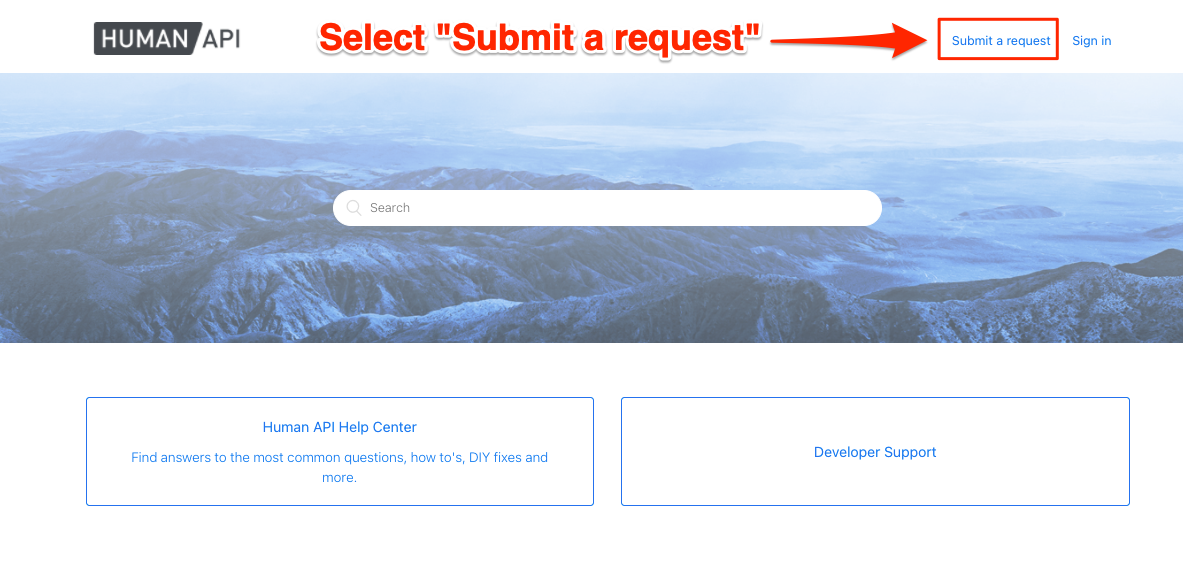 Once on the Submit a Request page, select a form from the dropdown menu. If you are not sure which form to use, select the "General Inquiries" form.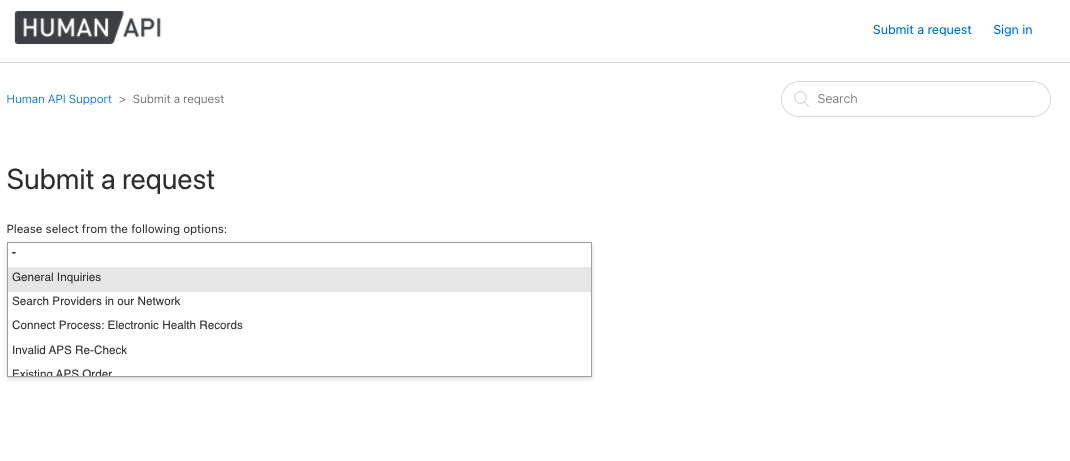 Initiating Messaging and Chat
Human API offers two types of real-time troubleshooting options. To initial both the automated messaging system or a chat with a live agent, select the "help" icon at the bottom right corner of any Help Center page.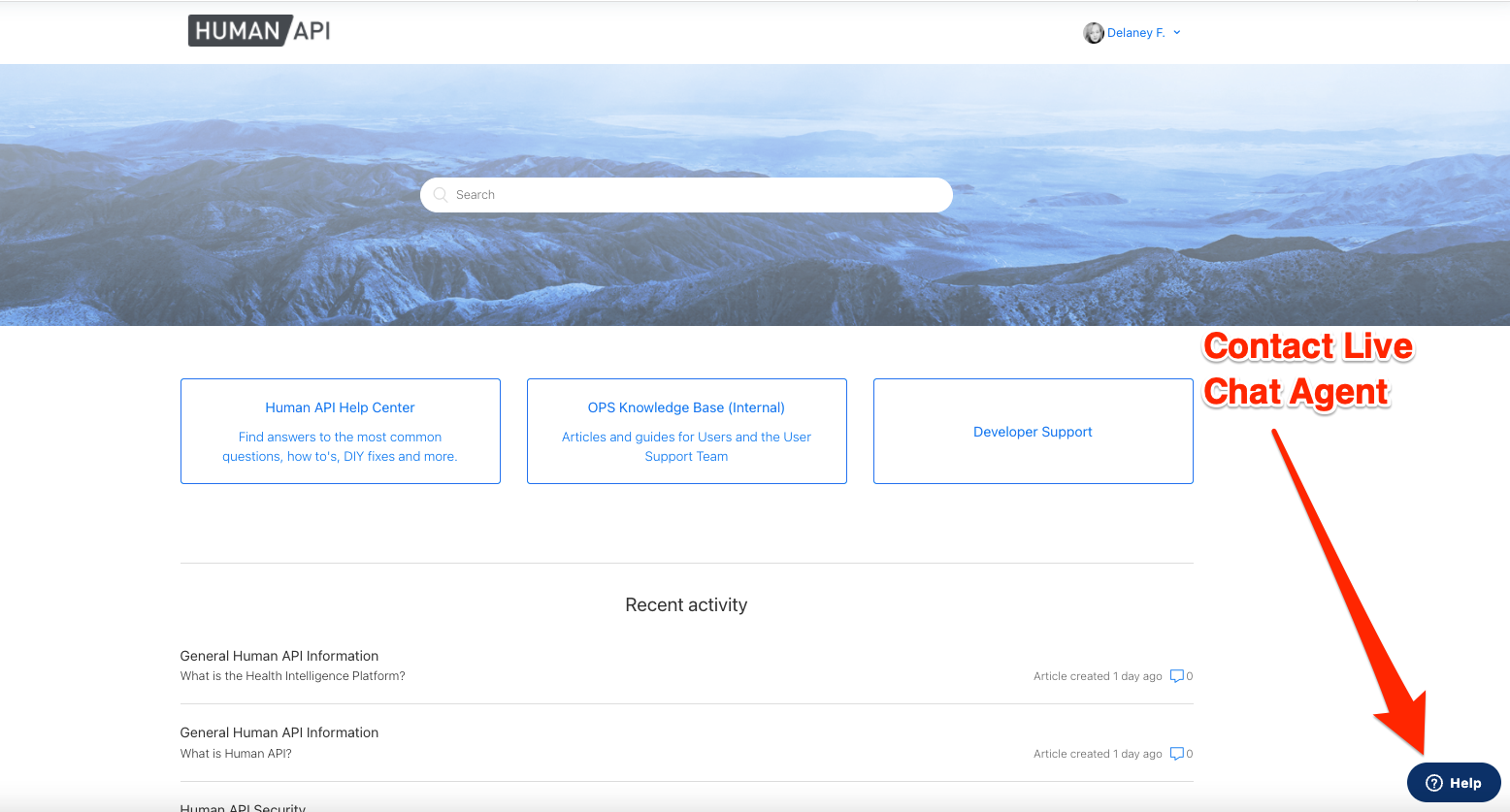 Automated Messaging System
Coming April 2022
Our intelligent automated messaging system can help both customers and consumers troubleshoot several of your most common questions. The system uses information you provide to offer a detailed step by step guide to the following tasks:
Searching healthcare providers in our network
Connecting your online patient portal to our system
Updating Special Authorization forms
Completing tasks in the Customer Portal
If the automated messaging system is unable to resolve your support needs, you will be prompted to fill out a pre-chat questionnaire and be transferred to a live agent.
Chat with a Live Agent
During chat business hours, live agents are available to chat through our online messaging system. Outside of chat hours, you will be presented with a menu of our support request forms to select from.
Due to the complex nature of our service offerings, live agents may not always be able to resolve your issue during the chat. In these cases, the attending agent will gather necessary information during your conversation and follow up via email within 24-48 hours.
Email Customer Support
For general customer support needs, you may email help@humanapi.co. Please be aware that support requests submitted by email experience the longest wait times, due to increased degree of manual processing to ensure your request reaches the appropriate team.
Be sure to include:
Full Name
What organization you represent or are trying to connect health records to
Detailed description of your inquiry
Policy and record ID, if applicable
Name, address, and patient portal log in page URL for your healthcare provider, if applicable
The more information you are able to provide, the faster we will be able to address your needs.
Teams Available to Assist You
User Support Team
Our User Support Team handles the majority of incoming requests, leveraging their deep knowledge of Human API products to ensure your needs are met. Agents will evaluate the nature of the inquiry and either resolve it, if it falls within their purview, or escalate it to one of the following teams, if the nature of the request is more complex. You can expect a response within 24-48 hours from the User Support Team.
Technical Support Team
Like the User Support Team, our Technical Support Team interacts directly with both customers and end users on support requests. What sets Technical Support Team members apart is their deeper understanding of computational systems and our back-end environment. You can expect a response within 24-48 hours from the Technical Support Team.
Technical Services Team
Human API has situated a branch of our Engineering team directly in the Customer Success department to ensure customers and end users receive the highest quality support experience. While other Human API engineers are innovating toward the future of Human API, the Technical Services Team is focused directly on you and your present day experience with Human API product offerings. This team is ready and waiting to get new customers set up in our system, debug issues encountered by our users, and configure everything you need to ensure a seamless experience with Human API. Depending on the complexity of the inquiry, you can expect a response within 24-72 hours from the Technical Services Team.