If you are unable to find your provider, please try the steps found in this helpful article.
The below video demonstrates how to connect via Human for sharing electronic health records (EHRs):
Step by Step Guide: Connecting Patient Portal with Human API
1. Click " Connect My Health Accounts".
You will need a patient portal account to connect your Health system with us.

2. Select "Get Started". Not sure if your provider has a patient portal, use the Chat icon on the right to talk to our team.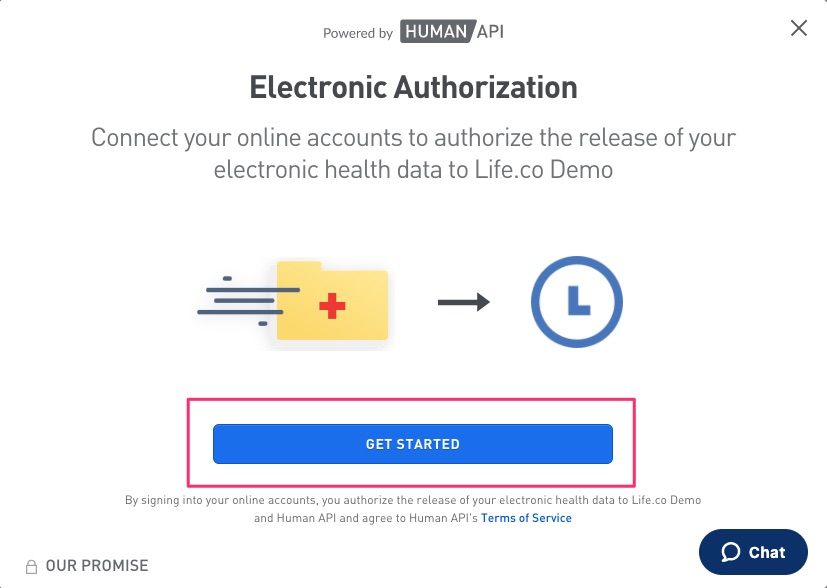 3. To connect your Doctor's office or Health system, please select "Healthcare Provider"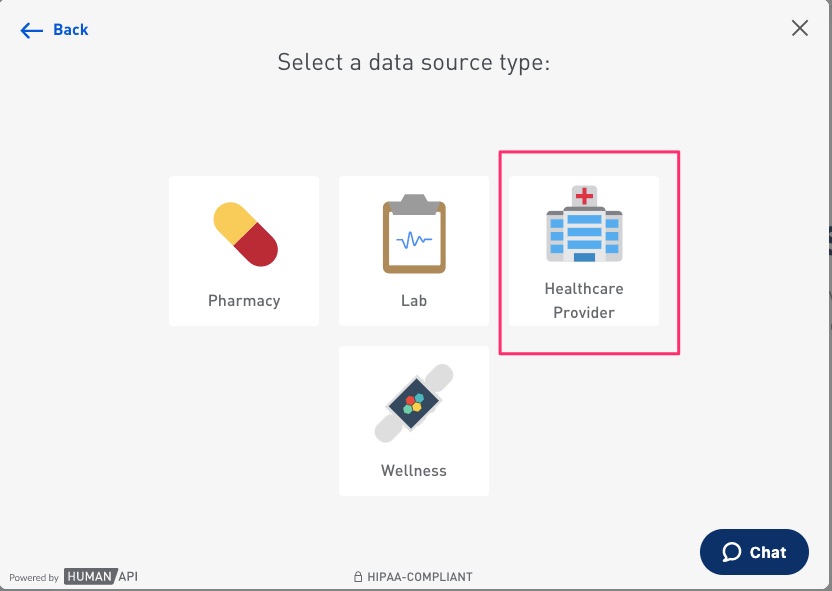 4. If your doctor is affiliated with a clinic or health system, such as Kaiser Permanente or Athena, please search by health system name.

Note: If you haven't received medical care in the last 5 years, please contact your insurance representative and they can suggest the next step.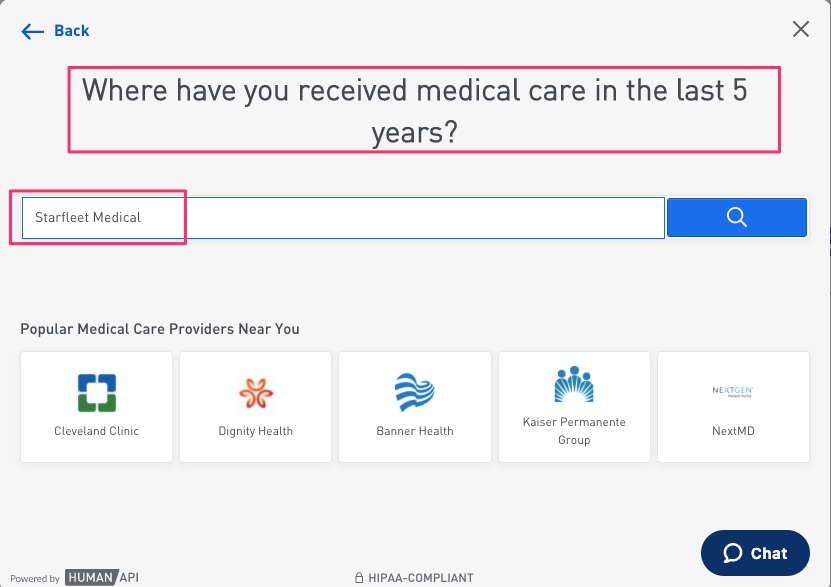 5. Type the name of Health System of Clinic Name you want to connect and click "Enter".
In this example, we want to connect Starfleet Medical and Connect shows two options for this Provider. Select the provider from the option below.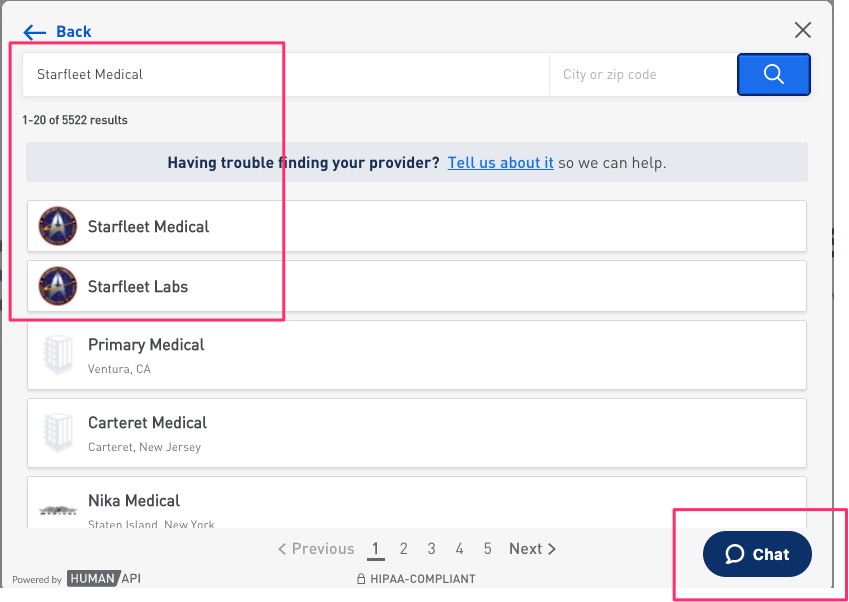 6. You will be asked to enter your Patient Portal username and Password. Enter your portal username and password and click "Connect Account"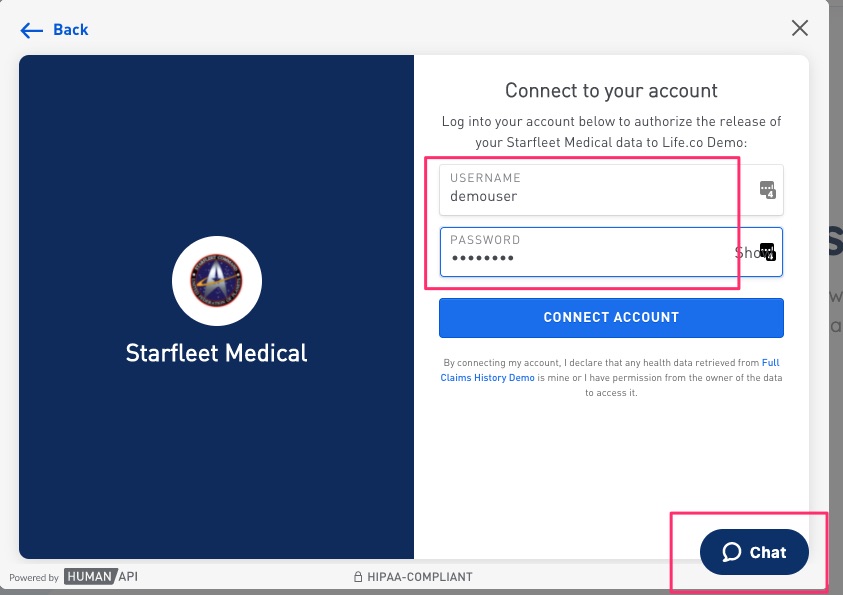 7. If you have successfully connected your provider, you will see this screen.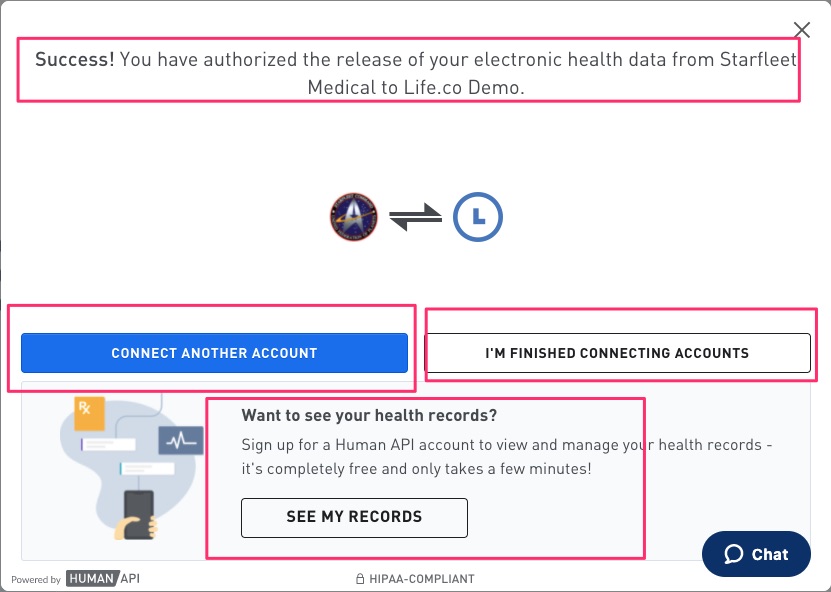 Connect Another Account
If you want to connect another Health Care Provider Portal, select this tab.

Want to See your Health Records?
If you want to see your Health records that you shared with the insurance or the organization you are providing your records, use this option to create a MyHuman API account.

I am finished Connecting Accounts
Click this option if you are done connecting your provider.


8. Selecting Want to See your Health Records? will provide the option for you to create your MyHumanAPI account.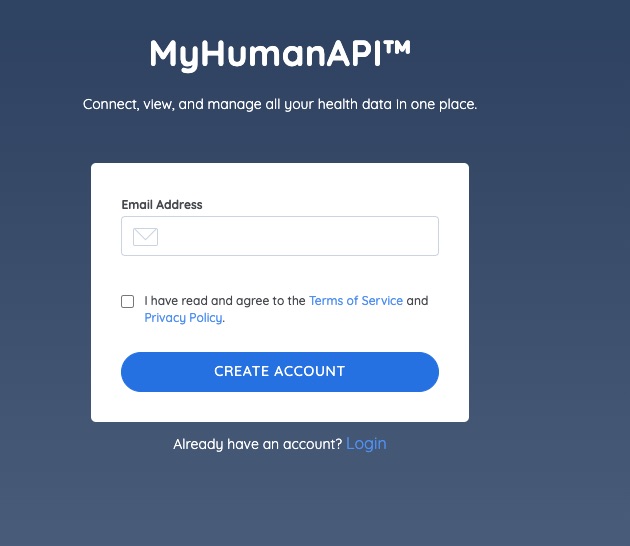 FAQ about connecting your Patient Portal
Do I need a Patient Portal account to connect my Health Provider?
Yes, you need a patient portal that gives you online access to your medical data to connect your provider with Human API. Not all patient portals are compatible with Human API system, so please use the live chat option to talk to our support team if you cannot find your Health provider.
I don't see my Doctor's Office. What do I do?
If your doctor is affiliated to a Health system or a Clinic, please search for the Health system or Clinic.
For Example: Dr. Newman Andrew is affiliated to Stanford Health system
Affiliated Health System: Stanford Health System

Search Term in Connect: Stanford Health
Error message when connecting my Provider in Human API. What does it mean?
Incorrect Username AND/ OR Password
You can check the portal link you are connecting from the Dashboard. If this is not your patient portal link, please use the Chat icon to talk to our Support team.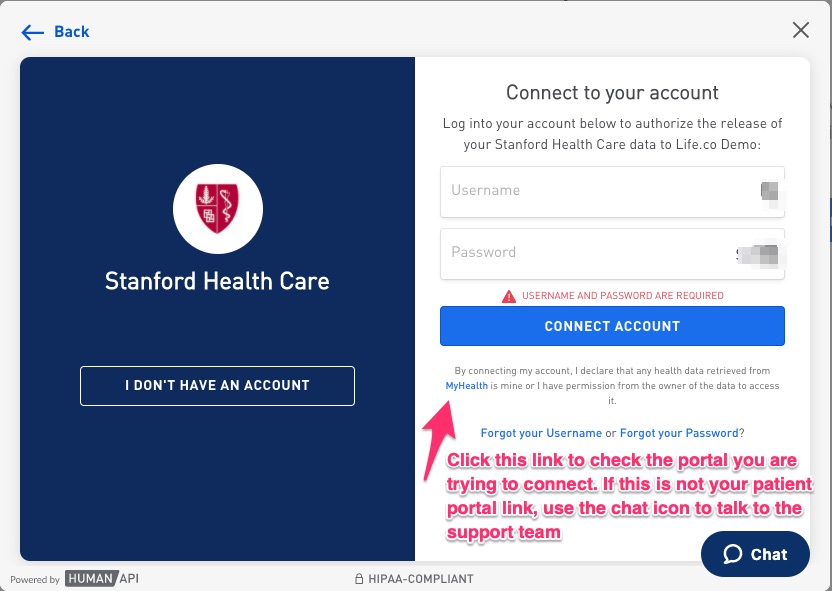 Internal Error
Use the Chat icon to talk to the Support team


Outstanding Portal Issue
If you see this error, login to your portal outside of Human API and resolve any pending notifications in the Portal. Once that is completed, use the invite link to connect your Provider with us.